T-shirts are fashionable, comfortable, relatively inexpensive, and easy to wash.  Despite these benefits, finding a size that fits your unique physique can be a difficult task since t-shirt sizes are never universal. In fact, a medium size in one brand could be an extra-large size in another brand.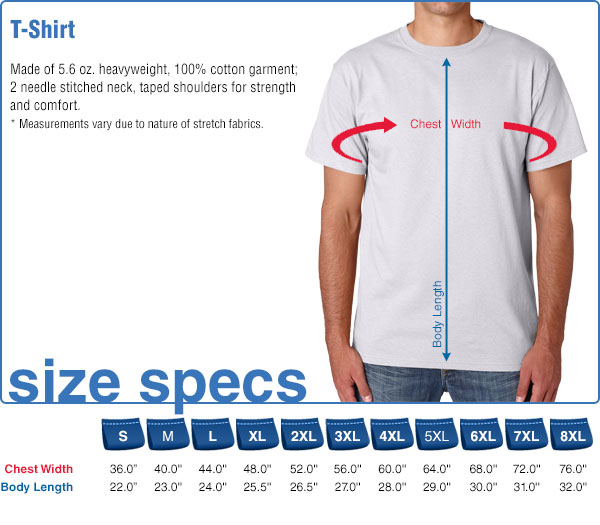 How do you select the right fit for you? Below are some basic tips that can help you purchase your correct t-shirt size.
What Is your Correct T-Shirt Size?
A nicely fit t-shirt should fit you snug without revealing too much. The sleeves should reach halfway down your upper arm. The bottom hem of the t-shirt should be at or slightly past the beltline. Also, the t-shirt should not constrict your neck, and it should not reveal your belly when you raise your hands in the air.
You should avoid poorly fitted t-shirts at all costs. They may be uncomfortable to wear, and they will lower your physical appeal.
How to Choose a Correct Sized T-Shirt
There are three primary ways to choose a correct sized t-shirt. First, try it on to see if it fits you. If you're not able to try it on, you can read the measurements on the t-shirt label to see if it matches your individual measurements. Lastly, you can purchase custom made t-shirts designed specifically for your body based on your bodies measurements.
1.    Trying it on at the store
If you're buying the t-shirt from a physical store, take 5 minutes and try it on. But how can you tell if it is the right fit? Here are three basic considerations:
The shoulder seams of a nicely fitted t-shirt should only go to the end of your shoulder.  If the seam extends down your upper arm, then the t-shirt is too big for you. If the shoulder seam does not reach the end of your shoulder, then the shirt is too small for you.
The t-shirt sleeve should not extend past the half way point of your upper arm. If the t-shirt sleeves extend past the half way point, it is probably too big for you. If the sleeves do not reach the half way point, then it is probably too small.
A correctly sized t-shirt should extend a few inches past your waist or belt line. You should avoid t-shirts that don't extend past your waist line as well as those that are way past your belt line.
2.    Use Measurements
Are you buying a t-shirt from an online store? Here is how you purchase one that will fit your unique physique:
Use the measurements of a shirt that you currently own that fits you perfectly.
This is the easiest way to obtain proper measurements which you will use to purchase a t-shirt that will fit you correctly. Simply take one of the t-shirts you own, lay it on a flat surface, and use a tape measure to take width, length, and waist measurements.
If you don't own a shirt that fits you properly, measure yourself. You will need to measure the circumference of your neck just below your Adams apple. You will also need to measure the length of your shoulders, upper arm, and the widest part of your chest.
With your exact measurements, you can use them to shop at your favorite online t-shirt store and find a t-shirt that matches your individual measurements. Almost all online stores have t-shirt measurement tables on their product pages. Some of them display a picture of the t-shirt tag which displays the exact measurements of the t-shirt.
3.    Custom made t-shirts
If you're having difficulty finding an off the shelf t-shirt that fits you properly, try a custom fitted t-shirt. Commercially produced t-shirts are made for the general public and unless your body fits their standard measurements, you will never find a perfectly fitted t-shirt. A custom fitted t-shirt based on your specific body measurements will be designed to fit your unique body type perfectly. Another huge benefit is you can add your own custom print designs to your t-shirt to reveal your own personal style.
Summary
If you want a t-shirt that fits your unique body type, you should try it before you buy it. If your shopping online, you should take your own measurements and compare them to the size chart listed on the product page. If you truly want a perfect fit, then a customized t-shirt is the way to go. Simply enter in your measurements and you will get the perfect fit every time.